Gail often teaches and shares at conferences and workshops around the world. Some of her work, resources, and links are shared here.
Be sure to check out the link above for "Tech Sandboxes" another option as a part of a professional opportunity or conference.

She would love to come to your conference, no conference is too big or too small!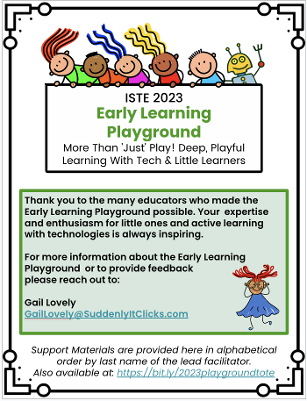 ISTE Live 2022
New Orleans, Louisiana
Little Learners and Power Tools - A Creation Lab
This link will take you to an "after ISTE" Google Slides version of the presentation:
Little Learners and Power Tools
with Gail Lovely
For a pdf version of the "after ISTE" version of Little Learners and Power Tools:
Early Learning Playground
ISTE Live22
Gail was pleased to coordinate the ISTELive22 Early Learning Playground. Here is the link to the materials related to this fun, active learning event at ISTE:
https://bit.ly/earlylearningplaygroundISTE22
Here is a link to the books featured in the Playground Library: